Moving Tips How To Pack Your TV
Here are some Moving Tips How To Pack Your TV.  Large flat Screen, LCD, Plasma TV or even Large Art and Picture Frames.
As you know TV can be expensive and the last thing you want to do after your expense of moving is having to replace your TV. Some removals just wrap your Plasma LCD TV in a Moving Blanket. While we don't recommend this especially large TV's. If you choose to go this way make sure if they break the TV that you are covered by their insurance. Your TV is a fragile item and can be easily damaged, either by being scratched. It can be dropped. Larger TV's are heavy and can be difficult to lift. Please take this into consideration when you pack your TV . Read our Moving Tips How To Pack Your TV  So it can be stored and transported safely to your new home. When you are packing your TV pack any other electrical items like DVD Player,  Blue Ray , Video Player, Sound System as well. That way you are less likely to lose any cords or equipment like remotes.
Here is a guide on

Moving Tips 

How To Pack Your TV.  Large flat Screen, LCD, Plasma TV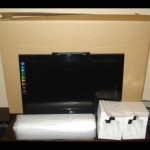 Moving Tips How To Pack Your TV
What you need to pack your TV. Use a strong twin wall  box ( preferable the original box)
Don't use Bubble Wrap. As this can damage the screen
Use foam screen covers. Tape. Zip lock bags. Blankets, Sheets if you don't have a box and towel or cloth. Polystyrene Inserts if you can get them or soft filling for the box.
How to pack your TV
Turn off your TV and unplug all the cables. Not just from the electricity but for your dvd, blue ray, video player and sound system. This will save some one tripping over the cord and will keep them safe from being damaged. Roll the cables up and use either cable ties or tape to tie them up. Use zip lock bags for your detachable cords and remotes. Screws from your stand's and any tool like Allen keys
Remove the TV from the stand or off the wall and leave the Tv upright. Lean it against something securer.  Either a wall or lounge ( Do not lie your TV Flat). If the TV is a large one make sure you have help lifting it.
Make sure the TV is cool before attempting to clean it.  To clean the screen use a soft lint free cloth to remove any dust, smudges and fingerprints. Be careful not to scratch your TV when wiping the screen down. You can use the same cloth to wipe the rest of the TV down.
Use a TV Screen Protection Cover over your TV. Or use a sheet to wrap your TV.  Tape up to add extra protection to your TV when being transported.

With the box for your TV.  You are better off getting one that is strong (Twin Wall)

If you have not got the original box the TV came in. Sometime these can be expensive but in the end this will save your TV from getting damaged. If booking with removals ask if they have one for you. Or shop around. Sometime you might be able to get one off a supplier that sells TV. Just make sure it the right fit.  Some removals will wrap it in blankets etc. Just check with the insurance to cover yourself if it gets damaged.
Once the TV is wrapped up. If you have polystyrene inserts. These will stop the TV from moving around to much in the box. Put the bottom ones in the box first. If you are worried about your TV moving around to much in the box you can add extra wrapping like a blanket or  Sheet if you don't have the inserts.
If you have your remote control, cables and leads in a zip lock back. Tape these to the inside of the box so they don't leave them out and they get lost during the move. Try not to put these in front of your screen. Either on the side of the box or at the back of the TV would be better.
Place the top inserts to secure the TV. Seal the box and make it clearly with Fragile TV and what room you would like this in.  Keep up right. Do not lie the box down or on its side. This could damage your TV. Try to minimize the amount to times the box or your TV gets moved even if not using a box.

When moving or storing your TV.

Keep it away from strong sunlight or high temperatures.  Any kind of moisture water and damp area's. Using a box will add more protection. As it will give you the added protection in case of rain on the day you move.
Once you have moved and set your TV up. Do not turn it oh for a couple of hours especially if you have moved a fair distance.
If your TV cost a lot of money and you are not sure about the removals insurance. Check with your house insurance or you can get extra insurance through Removal Insurance Australia
Thank you for taking the time to read our Moving Tips How To Pack Your TV . Please feel free to look at our website for more tips on packing and moving.
We do stock TV Boxes and Packing items at a reasonable cost compared to what is out there on the market. Please see our Products and Prices for more details  If we can help you in anyway. Please contact us for all your Moving and Packing Supplies Brisbane
BOX EM UP Packing Boxes For Sale Brisbane
Call or TXT Roxann Coffey on 0411676626
E-mail roxann@boxemup.com.au