Moving and Packing Tips
Here are some Moving Tips Packing Tips . If you have any more advice for moving that you found useful when you did your move. Please share them with us as it might come in handy for someone else who is moving. Will help make the whole process of moving and packing less stressful
Make sure you are prepared for your move. If you do this and ready in advance. This will help take the stress out of moving and make life a little easier for you and your family.
Choosing A Good Removalist Or Doing It Yourself.
In the end it come down to cost and what you can afford and willing to risk at the time. Doing your research and asking questions is the key for your own piece of mind when it comes to moving.
If you go for a removal company. Get one that is recommended to you. Or if you don't have that option Call around and see what they offer you. Read their reviews on Google or any other review sites. Find the one that will suite you and your family.
Check to see if they are a registered business with the Government website. Click on this ABN LOOKUP to check if they are registered for business. This will tell you if they have a ABN at lest.
Do your research on them. As they are moving your items that you have worked hard for over the years. Or you may have precious things that were given to you as gifts that you treasure. You don't want these lost or broken. Even if it is a accident.
Compare your prices. Not just on the Removalist Boxes and Packing Items but on the move as well. While they may offer you a discount on the removal boxes and packing items they may charge you more on the move to make up for the loss on the cost of the boxes. So it pays for you to check this out. You don't want to spend more money then you have to.
Ask the question if they charge you from door to door. Or does the price include going back to their office. As some will add this on. Read the fine print no matter how long it take you. So many people have been caught out with extra charges and if they damage your items you might not be covered by their insurance. So make sure you ask questions if you don't understand what is written in the contract.
Don't sign anything until you check the Removalist Worker's and Truck. See that the truck is clean and tidy same with the worker's.
If you are not happy with them "Don't Risk It". You might lose more then it worth in the end.
Don't give them any money until your move is completed . Just in case something happens on the day of your move and they can't make it. You are not stuck with losing your money and having no removalist.
Don't forget to ask what they plan to do if the weather is bad. Do they have a plan
Give them as much info as you can about your move. For example.
How much stuff you have. Bedrooms. Take photo's if they can't come to you.
The driveway and parking from your home to the new location.
Size of furniture getting in and out doorways and up and downstairs or lifts
Don't forget insurance. This is a must. Not only for your items but property as well.
If You Do It Yourself
If you do it yourself . You can save money by hiring the truck during the week or on the weekends. Book well in advance. Just in case it is raining on the day
The rate maybe cheaper for the week days then on the weekends when you hire a truck
If you move locally and you can get the keys early you can start moving your small boxes and Items when you have time. You might drive past there on the way to work or seeing a friend. This will save you time on the day with your moving boxes.
Arrange for a few friends or family members to help you with the move. Offer them dinner or lunch for helping.
Check with your insurance company that your things are insured just in case of a accident or see if you can take out extra cover for the day. The van are generally insured but make sure you know what you are covered for
Another thing you can try is get a Container . You will find them at Gateway Shipping Container . Fill it yourself and make sure you get a good lock for it that way you know how its packed and where everything is
Check for leaks and holes.
Make sure you pack it correctly. You can find clips on Youtube or Contact a local removal company. As you don't want things moving around when the Container or Removal Truck is being moved . Where you get it from should be able to tell you the best way to pack it. Using truck ties and removal blankets to secure your load
If you need your items in Storage. Look at getting a container or Moving Boxes ( Mobile Self Storage) like from Chock-a-Box . Its less likely for your items to be lost or stolen as no one should be able to get into the container or moving box.
Check the fine print on the contract with the Storage Place. Just in case they get broken in to or there is a fire.
Then when you are ready they can drop your container off to you for you to unpack it in your own time.
Take a look at You Tube for short videos on how to pack a container. Or click on this link You will find one on our website How to save on your moving cost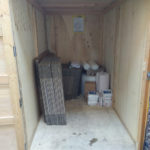 Mobile Self Storage
For Shipping Container Supplier here in Brisbane one of my customers suggested Gateway Shipping Containers.
He said they were the cheapest around and offer a great service.
Gateway Shipping Containers For Sale & Hire | Contact Us
If you have any other suggestion. let us know. As it may help someone else with their move.
Contact us if we can help you with anything else. Even if you think its a silly question. Happy to offer advice where we can
All the best with your move from BOX EM UP.
For all your Moving, Packing and Storage Supplies Brisbane
Archive Boxes (Strong Storage Boxes)
Extra Strong Large Moving Boxes (Tea Chest Packing Boxes)

Standard large Packing Boxes
Book and Wine Medium Packing Boxes
Crystal and Fragile Item Packing Boxes
Portable Robes Packing Boxes
Packing Tape
Tape Dispenser
Packing Carton Knives
Zip Bag Storage Carry Bag
Storage Vacuum Seal Bag Large

Clear Plastic Shoe Boxes Men's and Ladies
Clear Plastic Shoe Boxes Boots and Handbags

Stainless Steel Drink Bottles
Butchers Paper
Tissue Paper
Bubble Wrap
Picture Boxes / Mirror Carton
Identification Labels
Fragile Labels
Marker Pen
Removal Blanket – Wrap Pad Black Trim ( Moving Blanket)

Enviro Wrap
3 Seater Couch Cover – Furniture Protection Cover
Lounge Chair 2 Pack – Furniture Protection Cover
Dining Chair 2 pack – Furniture Protection Cover
Mattress Protections Bags King to Single Size
Storage Vacuum Seal Bag Small 2pk
Hope this information on Moving Tips Packing Tips helps you with your up and coming move . Please feel free to look around our site for other tips that will help you. If you can not find what you are looking for. Let us know be more then happy to help where we can. If you are in Brisbane contact us for your Moving Boxes, Packing Supplies and Storage Supplies
Thank you for visiting Box Em Up Moving Tips – Packing Tips.
Moving & Packaging Supplies Brisbane
Contact Roxann on 0411676626 or email roxann@boxemup.com.au if you require any moving boxes and packing supplies.