About BOX EM UP
Founded In Brisbane : 2010
Box Em Up is a family owned small home business specializing in the sale of Moving and Packing supplies Brisbane . At affordable prices to help you save you time and money. We can deliver the Cardboard Boxes to your door or you can choose to pick them up. The Packing Boxes are of good quality . If you have a small business you can also save on our bulk buys for your Packing or Wrapping Items. . We are here to service your needs. So if you need anything please send a message or call Roxann Coffey on 0411676626
To help with the environment we try to recycle where we can. That's why we offer to Buy Back your Moving Boxes when you have finished unpacking. We sell Second Hand Boxes (when available) to save you money and the environment.
Mission
To provide an alternative low cost way of purchasing Cardboard Boxes for Sale Brisbane for your Moving or Storage needs. To help make your move as simple and easy as possible. To take the stress out of it as much as we can. To provide a great service that you are happy with and recommend to others. Help where we can to save you time and money.
Packing & Moving Boxes For Brisbane
We use the same Removal Boxes and Storage Boxes that removalist use. The Boxes are new unless you buy the recycled boxes. Same with most of our packing items. If you find you are not happy with our service. We will refund you your money. Providing the boxes and other items have not been used and are the same as when you received the products.
Thank you for your time and Happy Moving.
You can contact Roxann by phone on 0411 676 626, by email at roxann@boxemup.com.au, or via the Contact Form on this site, to get your Brisbane Removal Boxes – also check out our packing tips.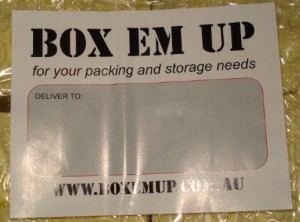 Click on Product and prices for our range of Storage Boxes and Packing Supplies


Thanks for dropping by. We hope you've enjoyed our website. Contact Roxann now for all your Removal Cartons For Sale in Brisbane needs.